Low Frequency Underwater Transducer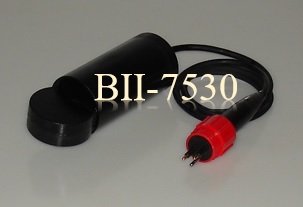 Benthowave's low frequency underwater transducers are designed for uses in ocean noise simulation, underwater communication, bioacoustics (marine mammals and fish sounds/behavior), education and generation of sound fields.
With underwater supportive mounting apparatus, multiple BII-7530 transducers can be set up to be a low-frequency linear or planar array to produce higher underwater sound level.
Optional mounting parts are available for easy and simple installation on portable-mounting apparatus, submersibles, pipe, tank or vessel.
An impedance matching transformer is optional to provide correct impedance match to load requirements of power amplifiers.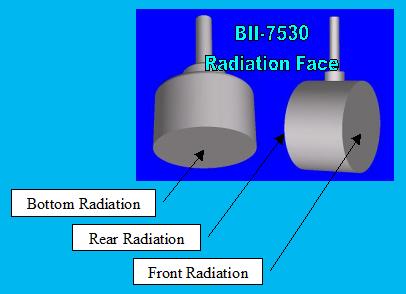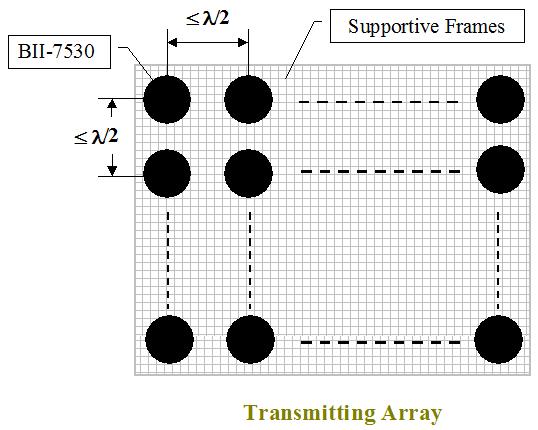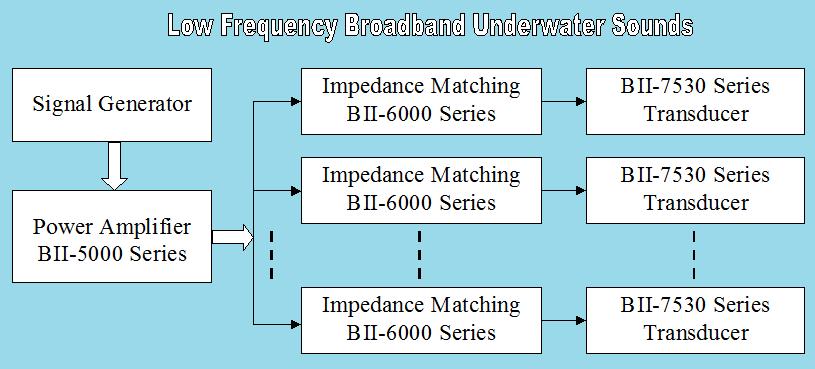 BII-7530 Series Low Frequency Underwater Transducer
Suggested Application

Dipole, linear, Planar Arrays
Acoustic Deterrent to Marine Animals
Ocean Noise Simulation: Vessel/Ship Traffic/Construction/Dredging...
Marine Animal Behavior Research, Bioacoustic Stimuli
Playback Marine Animal Voices/Calls/Whistles/Songs
Diver Recall System, Underwater Voice Communication
Long Range Sound Transmission
Artificial Acoustic Target
Audio Entertainment in Aquarium and Swimming Pool
Generation of Plane Wave/Standing Wave/Pressure/Acceleration Field
Features
Related Products
Frequency Range: 100Hz to 15kHz
Support Array Set-up to Boost Source Level
Easy Installation
Radiation Face: Front & Rear Face or Bottom Face
BII-5000 Power Amplifier
BII-6000 Impedance Matching and Tuning Unit
BII-8030 Underwater Acoustic Transmitter
Sonar Signal Generation
Specification
| | | | |
| --- | --- | --- | --- |
| Low Frequency Transducer | BII-7531 | BII-7533 | BII-7536 |
| TVR (µPa/V@1m): | TVR | TVR | TVR |
| Impedance: | ≥ 1 kΩ | ≥ 1 kΩ | ≥ 1 kΩ |
| Size (Front & Rear Radiation): | ΦDxH = 60x40mm | ΦDxH = 114x40mm | ΦDxH = 168x40mm |
| Size (Bottom Radiation): | ΦDxH = 60x25mm | ΦDxH = 114x25mm | ΦDxH = 168x25mm |
| Weight in Air: | 0.16 kg | 0.867 kg | 1.3 kg |
Usable Frequency:
100Hz to 15kHz
Radiation Face:
Plane
Maximum Drive Voltage:
500 Vrms
Maximum Operating Depth:
150 m
Radiation Face:
Options:
1. Front & Rear: Add

/FR

to the listed part number, for example, BII-7533/FR, when requesting quotation.
2. Bottom: Add

/BT

to the listed part number, for example, BII-7533/BT, when requesting quotation.

Temperature Sensor:
1. Default: No built-in temperature sensor.
2. Built-in temperature sensor. When ordering, append

TS

to part number for integrating a temperature sensor in the transducer. Click Temperature Characteristics for more information.
Impedance Matching & Tuning:
BII-6000, Available; Order Separately.
Mounting:
1. Default: Free Hanging (FH)


2. Free-hanging with Male Underwater Connector (FHUWC)


3. Thru-hole Mounting

with Single O-ring (THSO)


4. Thru-hole Mounting

with Double O-ring (THDO)


5. Bolt Fastening Mounting (Stainless Steel): (BFMSS)
6. End-face Mounting: (EFM)
7. Flange Mounting: (FGM), Exclusive to BII-7536.
8. Thru-hole Mounting

+ Free Hanging (THFH)


Click Transducer and Hydrophone Mounting

for more detailed information on mounting/installation.

Cable:
Shielded Cable (SC)

Connector:
1. Wire Leads (WL)
2. Underwater Mateable Connector (UMC)


3. MIL-5015 Style (5015)


4. Custom (custom)
Operating Temperature:
-10 to +60°C
Storage Temperature:
-40 to +60°C
How to Order:
Click How to Order.
Transducer Wiring:
Click

Transducer Wiring

for detailed wiring information.
Transmitting Array:
Array & Aperture Design