Amplitude Shading Transducer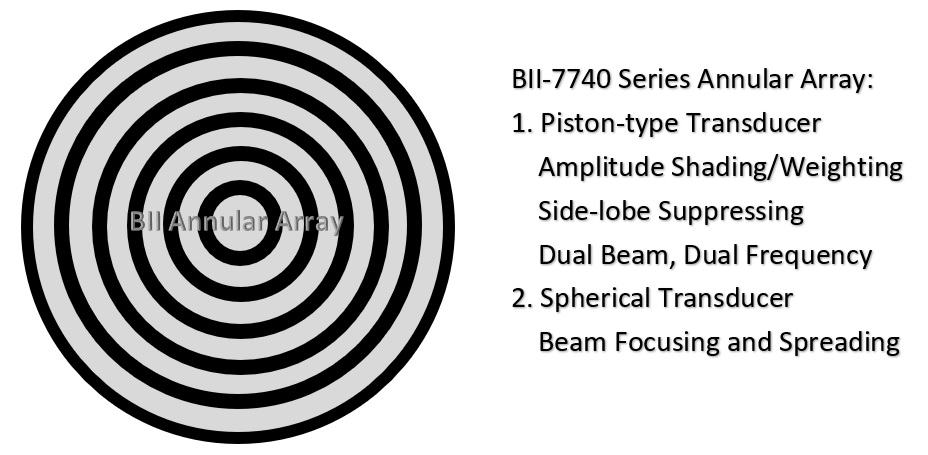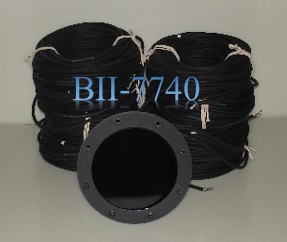 BII-7740s are high power broadband ring-array transducers which have a radially symmetric ring elements on the circular radiation face. The elements are driven separately with voltage sources to support the amplitude shading and tune the best compromise between main-beam sharpness and the side-lobe suppression. Different amplitude shading methods can be applied to BII-7740s to fit for the beam and side-lobe requirements in different field application. BII-7740s can also be used in research and development of amplitude shading methods.
BII-7740s have conical beam and are available in wide frequency range from 10 to 200 kHz, which can be used in communication, navigation, positioning, direction-finding Sonar, echosounding, fishery, bioacoustics, acoustical laboratory instrumentation ...
BII-7740s feature broadband and customization on operating frequency and parameters of the ring elements, and offer flexible, custom-made and low cost solutions to special transducer demanding in underwater acoustics.
Besides being used in active Sonar, BII-7740s can also be used in passive Sonar (listening sounds ONLY) with side-lobe suppression.
One-way Configuration: Transmission or Reception.
Two-way Configuration: Transmission and Reception. Transmit & Receive switch BII-2100 is available from BII.
BII-7740 Amplitude Shading Transducer (10 to 200 kHz)
Suggested Application
Instrumentation of Acoustical Laboratory
Direction-finding Sonar, Echo Sounding
High Resolution Sonar, Chirp/FM Sonar
Navigation, Obstacle Avoidance

Underwater Robotic and Vehicle (ROV, AUV, UUV)
Transponder/Acoustic Positioning/Tracking
Underwater Communication and Telephone
Fishery Sonar, Bioacoustics, Marine Animal Behavior Research

Features
Related Products

Customized on Ring Array
Customized on Operating Frequency
Frequency Available: 10 to 200 kHz
High Power: Up to 1200W
Broadband, Low Qm
Conical Beam


BII-2100 Transmitting & Receiving Switch
BII-5000 Power Amplifier
BII-6000 Impedance Matching and Tuning
BII-8030 Underwater Acoustic Transmitter
BII-8080 Transmitting & Receiving System
Sonar Signal Generation
Specification
| | |
| --- | --- |
| BII-7740 Transducer | |
Resonant Frequency fr:
Available from 10 to 200 kHz, Customized.
Center Circular Element:
ΦD Diameter in mm, Customized.
Ring Element:
Radial Length L in mm, Customized, Contact BII for availability (frequency dependent).
Element Spacing:
Spacing d in mm: d = L+0.4*n, n=1,2,3,4,5,6,7,8,9 ...; Customized.
Number of Elements:
Customized, Note: the number includes center element, and is limited by maximum available housing size.
Depth Rating:
Default: 100m (Blank)


500m (DW)


Note: 500m depth rating is not available to some parameter combinations. BII shall contact you if 500m depth rating is not supported to your specified transducer.
TVR @fr (dB µPa/V@1m):
≥ 150
Quality Factor Q:
3 to 5 (typical 3.5) Note: -3dB bandwidth of TVR = fr/Q
Receiving Sensitivity (dB V/µPa):
≥ -195.0
Beam Pattern:
Conical
-3dB Beam Width (One Way):
≥ 577°kHz/fr, fr in kHz. Customized, Depending on amplitude shading methods.
-3dB Beam Width (Two Way):
0.718*One-Way Beamwidth
Side Lobe Level (dB) (One Way):
≤ -17.7, Depending on amplitude shading methods.
Side Lobe Level (dB) (Two Way):
≤ -35.4, Depending on amplitude shading methods.
Maximum Drive Voltage:
600 Vrms
Maximum Housing Diameter:
ΦD ≤ 168 mm
Weight in Air:
> 1 kg
Mounting Options:

1. Default: Free Hanging (FH)


2. End-face Mounting: (EFM)


3. Flange Mounting: (FGM)


Click Transducer and Hydrophone Mounting

for more detailed information on mounting/installation.



Cable:
1. Shielded Cable (SC): for

Free Hanging


2.

Wire/Cable Bundle (WCB): for

End-face Mounting and

Flange Mounting



Connector:
1. Default: Wire Leads (WL)
2. Underwater Mateable Connector (UMC)


3. MIL-5015 Style (5015)


4. Custom (custom)
Operating Temperature:
-10°C to +60°C
Storage Temperature:
-40°C to +60°C
How to Order:
Click How to Order.
Transducer Wiring:
Each element has a cable or wires.
Structure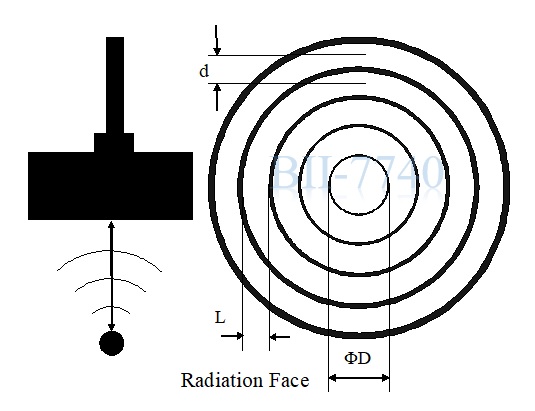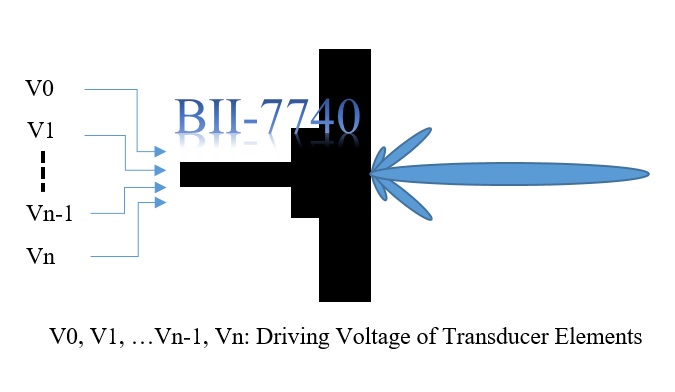 Amplitude Distribution
There are many ways of adjusting the desired amplitude distribution on the transducer elements. This can be done electrically by varying turn ratio of the step-up voltage transformers, by variable gain voltage amplifiers, or by computerized multi-channel voltage sources/DACs.