Omnidirectional Transducer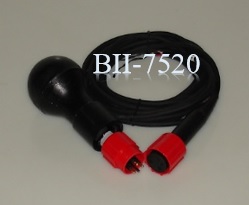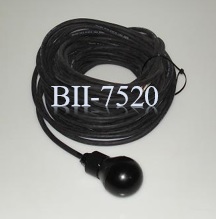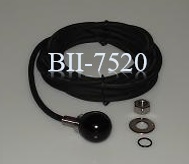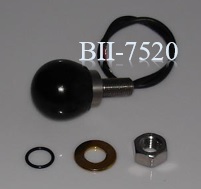 BII-7520 Omnidirectional Transducer
BII-7520 series spherical transducers ranging from 10kHz to 1MHz provide omnidirectional transmitting and receiving voltage response and broadband response, and can be used in communication, FM/Chirp Sonar, artificial target, etc...
With suitable mounting options, BII-7520s can be installed on hulls or frames as a transmitting and receiving array such as linear, planar or cylindrical array. Working with BII T/R Switches which have built-in preamplifiers and custom high pass filters, the array can drive long cables and eliminate the unwanted ship or ambient noise before beam-steering and amplitude shading.
Optional mounting parts are available for installation on portable-mounting apparatus, submersibles, pipe, tank or vessel.

Suggested Application

Hull-mounted Array: Linear/Planar/Cylindrical Array
Fixed Array and Drifting Array
Underwater Digital & Analog Communication
Underwater Telephone
Artificial Acoustic Target
Echo-Repeater Target
Active-Acoustic Target
Underwater Vehicles: AUV/UUVs and ROVs
Pinger, Locator, Transponder, Tracking
Underwater Beaconing Transducer
Acoustic Positioning: LBL, SBL, USBL
Acoustic Deterrent to Marine Animals
Synthesize Marine Animal Sounds, Acoustic Stimuli
Forward-looking Navigation Sonar
Features
10 to 1MkHz
Omnidirectional Beam
Broadband
Deep Water
Array Element
Easy Mounting
Related Products
BII-5000 Power Amplifier
BII-6000 Impedance Matching and Tuning Unit
BII-2100 Transmitting & Receiving Switch
BII-7000 Broadband Omnidirectional Hydrophone/Projector.
BII-8030 Underwater Acoustic Transmitter
BII-8080 Transmitting and Receiving System
BII-7700 Hemispherical Transducer.
Sonar Signal Generation
Specification
Transducer
Frequency
kHz
TVR
dB µPa/V@1m
OCV
dB V/µPa
Q
Beam Width
HorizontalxVertical
Depth
Rating
Deep
Water
Size
ΦD mm
BII-7521
85
TVRBP
-200.8
4
TVRBP
300m
950m
35
BII-7526
60
149.0
-199.5
4
Omnix265°
300m
950m
38.5
BII-7526/1000
1000
150.7
-201.2
4
Omnix230°
300m
950m
38.5
BII-7524
48
TVRBP
-199.2
4
TVRBP
300m
950m
46
BII-7524BB
45
62
150.0
152.6
-187.0
-190.0
3
Omnix260°
300m
950m
46
BII-7522
35
TVRBP
-193.5
4
TVRBP
300m
950m
60
BII-7522/500
500
155.6
-195.0
4
Omnix230°
300m
950m
60
BII-7522BB
30
47
TVRBP
-195.0
-201.0
2
TVRBP
300m
950m
60
BII-7523
25
TVRBP
-185.0
4
TVRBP
300m
950m
69
BII-7527
20
148.0
-191.6
4
Omnix260°
300m
500m
80
BII-7527/300
300
150.3
-195.6
4
Omnix240°
300m
500m
80
BII-7527BB
15
35
TVRBP
-185.0
-202.0
2
TVRBP
300m
500m
80
Note:
Bandwidth = fr/Q
. Q: Quality Factor of the Transducer.
Miscellaneous: BII-7520 Series Transducer
Beam Pattern:
Spherical, Omnidirectional.
Maximum Drive Voltage:
300 Vrms
Duty Cycle:
1% at Maximum

Power or Maximum Driving Voltage.
Temperature Sensor:
1. Default: No built-in temperature sensor.
2. Built-in temperature sensor. When ordering, append

TS

to part number for integrating a temperature sensor in the transducer. Click Temperature Characteristics for more information.
Deep Water:
To order Deep Water model, append

DW

to the part number.
For example, BII-7521DW is of 950m depth rating; BII-7521 is of 300m depth rating.
Impedance Matching:
Custom-made BII-6000: 4 to 16Ω, 50Ω, 60Ω, 75Ω, 100Ω, etc...

Not Included.

Order separately, Append

IM

to part number.
TR Switch:
BII-2100 Transmitting & Receiving Switch. Not Included. Order Separately, Append

TR

to part number.
Mounting Options:
1. Default: Free Hanging (FH)


2. Free-hanging with Male Underwater Connector (FHUWC)


3. Thru-hole Mounting

with Single O-ring (THSO)


4. Thru-hole Mounting

with Double O-ring (THDO)


5. Bolt Fastening Mounting (Stainless Steel): (BFMSS)
6. End-face Mounting: (EFM)
7. Thru-hole Mounting

+ Free Hanging (THMFH)


Click Transducer and Hydrophone Mounting for more detailed information on mounting/installation.
Cable:
1. Shielded Cable (SC)
2.

Wire/Cable Bundle (WCB): ONLY for Thru-hole Mounting with BII-752xTR and BII-752xTRIM.

Connector Options:
1. Default: Wire Leads (WL)
2. Underwater Mateable Connector (UMC)
3

. MIL-5015 Style (5015)


4. Custom (custom)
Operating Temperature:
-10 to +60°C
Storage Temperature:
-40 to +60°C
How to Order:
Click How to Order.
Transducer Wiring:
Click

Transducer Wiring

for detailed wiring information.
Transmitting Array:
Array & Aperture Design